Business Details
This section will guide you on how to set up your business details.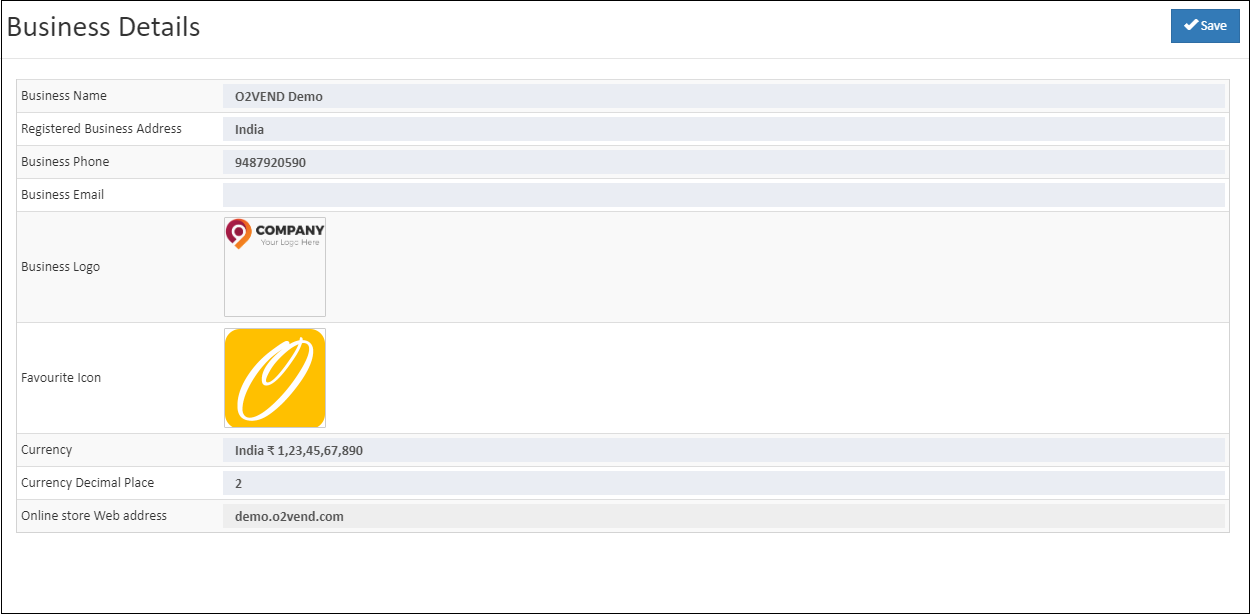 How to set up your business details
Enter a name for your business, business address, phone number and business email address.
Business Name
Add your business name. This can be updated and changed as many times as possible.
Registered Business Address
Enter the complete and exact Business address for your location.
Business Phone
Add a Business phone number which customers can use to contact you.
Business logo
You can choose your business logo, it will display in our all o2vend themes. The main purpose of a business logo is to identify your company in the market.
Favourite Icon
A favourites icon is also known as a website icon. It is an icon that appears in the page tab and address bar of your browser when a particular site is displayed. You can choose your favourite icon.
Business Email
Add a Bussiness email address includes your company name within it such as yourname@companyname.com.
Currency
Update the Currency used by your business. This will need to match the country you are located in.
Currency Decimal Place
Add a currency decimal place for your country. This is because different currencies could have different decimals. For example, for Indian Rupees (INR), it is 2 decimal places, Japanese yen uses 0 decimal places and US dollar uses 2 decimal places.
Online store Web address
As the URL (web address) your customers type into the address bar of their browser. You can't edit your online store Web address.
Tip
You can edit business details go to Menu > Settings > Business Details.