Purchase Report
Purchase Report provides a list of purchase invoices.
In this report can filter by date of the purchase and name of the createdby.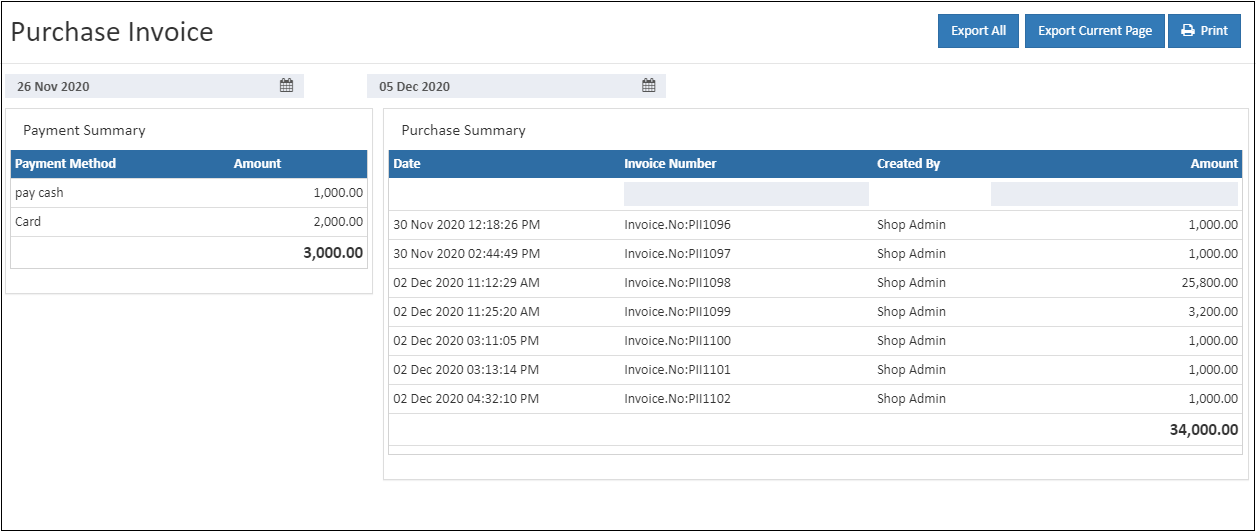 The purchase Report can be filtered by date and creaetby. This section summarize all the purchase information of your store.
The Report has two sections.
Payments Summary
Purchase Summary
Payments Summary Section
The Payment summary section has sum of payments paid against the payment method for selected number of days. A total of all the payments made with in the days also seen.
Purchase Summary Section
The purchase summary section lists all the purchase created between the selected dates. It lists all the purchase accross channels. (both physical stores and webstore)
How to view the Purchase Summary Report
Open Back Office
Click Reports Section or use shortcut key (Alt+R) the reports section willbe open.
Click Purchase Report to view the report.
The Payments Summary and purchase Summary will be shown for the current date.
Change Start Date and End Date.
The report will be automatically refreshed with the values for new dates selected.
Tip
Use Export All and Export Current Page options to export the report details in to comma seperated CSV file.