Output Detailed Tax Report
Output detailed Tax reports contains details of products sold (or moved OUT), tax collected against each product and totals.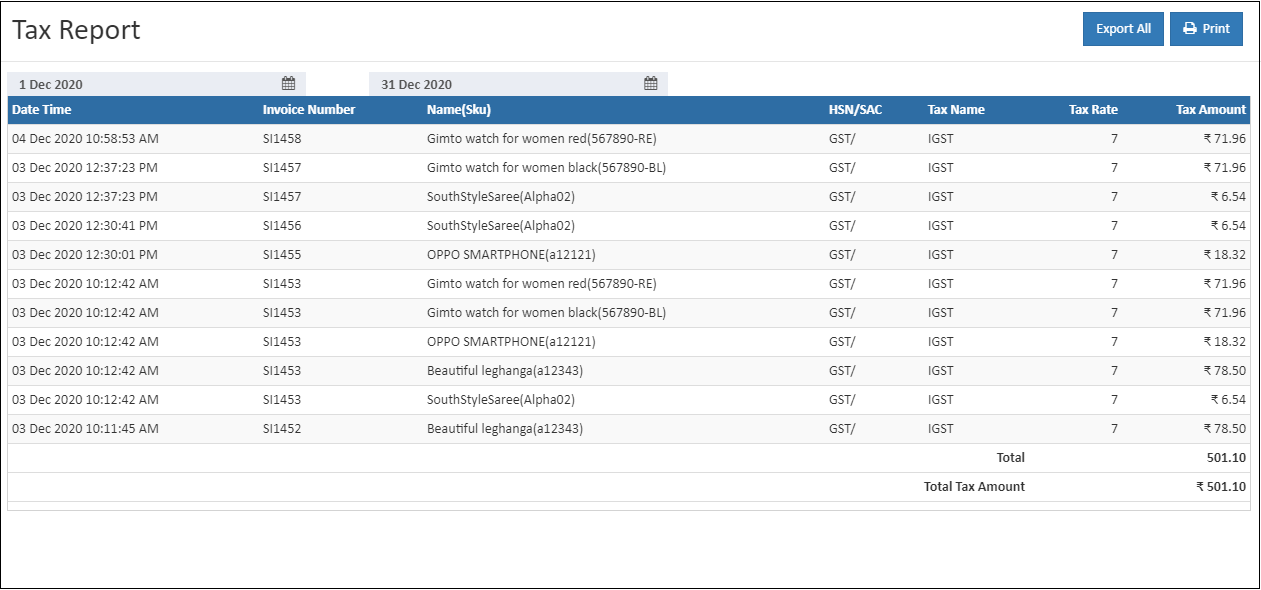 Invoice Number
Invoice number is a unique number, assigned to each invoice. This report displays invoice number.
Name(Sku)
This reports display the product name and sku for the specific invoice.
HSN/SAC
HSN code and SAC code are the codes used to classify goods and services under GST regime in India. This report display the hsn/sac of the tax class.
Tax Name
Name of the tax class type are displaying in this reports.
Tax Rate
This display the applied tax rate of the product.
Tax Amount
This reports will display the total amount of tax per page and the over all total amount of the tax.
How to view the Output Detailed Tax Report
Open Back Office
Click Reports Section or use shortcut key (Alt+R) the reports section willbe open.
Click Output Detailed Tax Report to view the report.
The Output Detailed Tax Report will be shown for the current date.
Change Start Date and End Date.
The report will be automatically refreshed with the values for new dates selected.
Tip
Use Export All and Export Current Page options to export the report details in to comma seperated CSV file.