Manage Receipts
This section will guide you to manage your receipts across your channels.
Receipts
Keeping track of your receipts is important for all businesses. You can easily see invoices, debit note and cash in an amount in the receipt section. This section mentions the receipt number, party name (if applicable), type, reference number, created by, description (if applicable) and total price. Go to the Back Office, click the Vouchers and select the Receipt.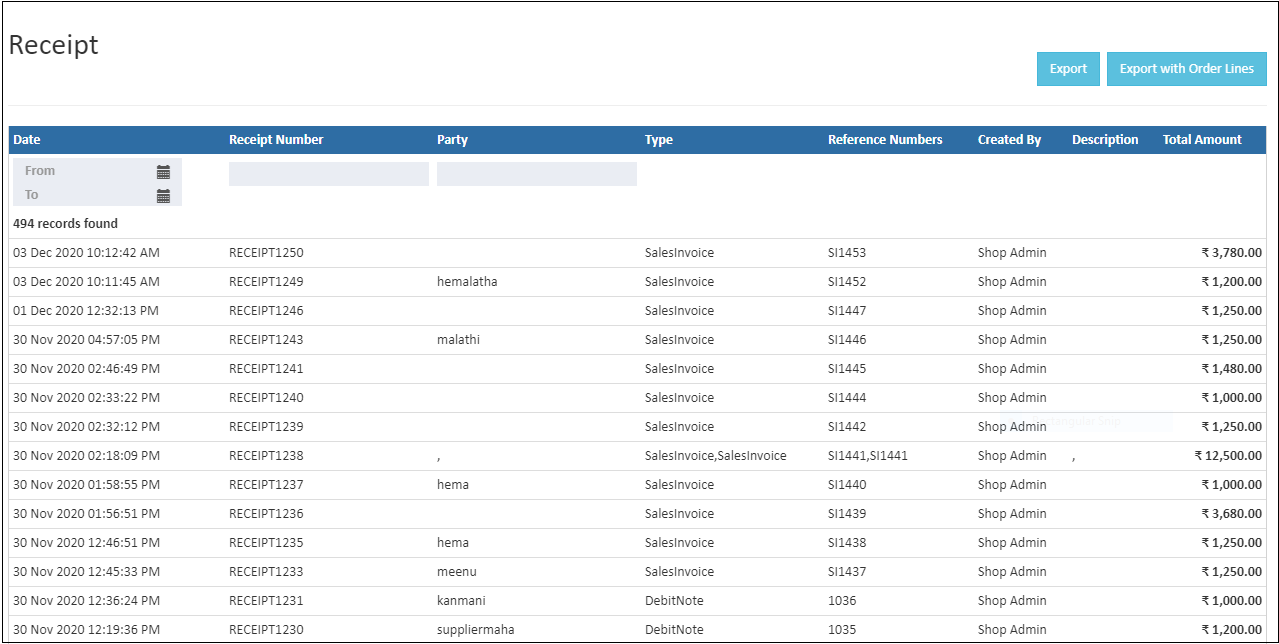 This shows the receipts of sales invoice, debitnote and cashin
Created On
The receipt created date will show in a created on the field.
Receipt Number
A receipt number is a unique number. That is how the receipt number is created only to be the paid sales invoice.
Party
This will show the name of the customer or supplier who placed the orders.
Type
This will show the type of receipts. The types are cash in, debit note and sales invoice.
Reference Numbers
It shows the reference numbers of the receipts.
Created By
This will show the created by names of the orders.
Description
It shows the description of the order.
Total Amount
It will show the receipts total amount.
How to view the receipt
Open Back Office
Click Voucher Section.
Click Receipt to view the report.
List of Receipt will be shown for the current date.
Change Start Date and End Date.
The receipts will be automatically refreshed with the values for new dates selected.
Tip
Use Export All and Export Current Page options to export the report details into comma separated CSV file.