Manage Dashboard
To build a successful business, need to know what's going on day to day basis. The dashboard can show everything need to know about online store. Here see revenue, today's orders, Monthly Cumulative Orders and Most Sold Products, online store visitor data etc.
Do the following activities in dashboard,
Check the value and order count of sales and compare them to a previous day or month.
Check the value of today's receipts and monthly cumulative receipts.
See the most searched keywords in store and recent buying customers
Check the unpaid orders and Abandoned cart value.
Check most sold products and most viewed products of store.
And finally see the pending review and review replies.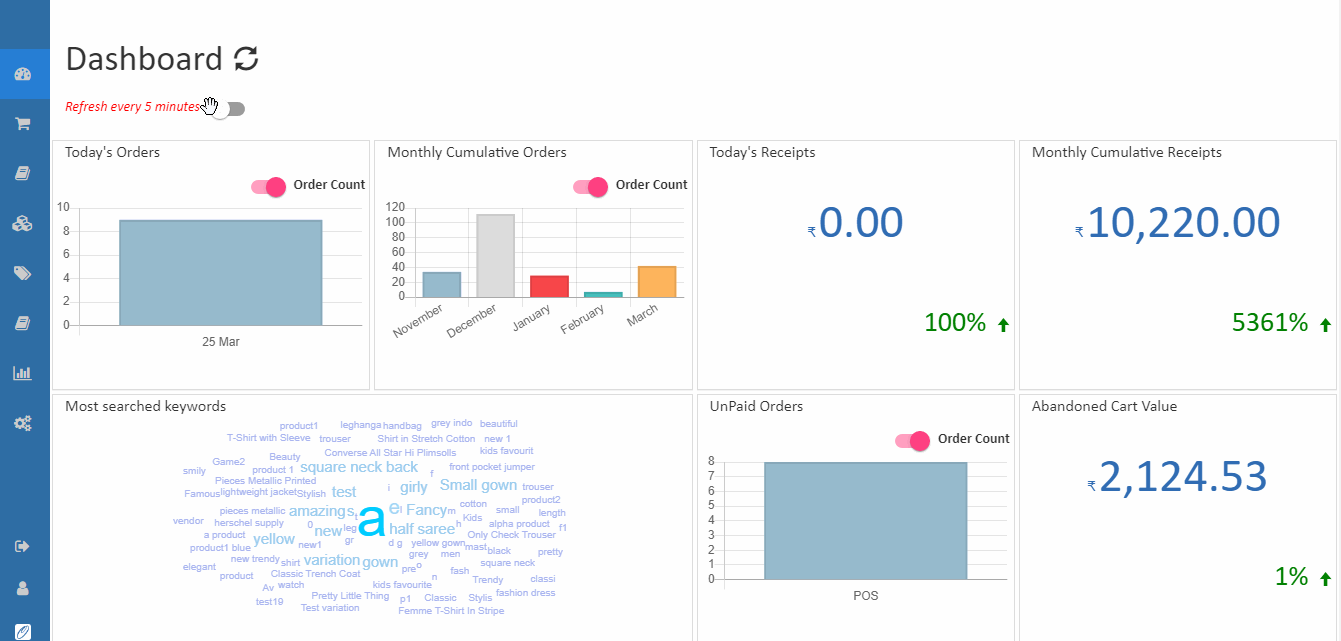 How to Open Dashboard
Open Back Office.
Dashboard will be the first screen opened after user login to the back office.
The dashboard shows order and receipt data for today compared with previous days.
Refresh every 5 minutes
If enabled, the dashboard page is automatically refreshed every five minutes.
Today's Orders
This widget shows the data for last 5 days. Using the toggle button, see order value or order count.
Monthly Cumulative Orders
This widget shows monthly cumulative order count and value for the last 3 months. Use the toggle button see the order count or order value for the months.
Today's Receipts
This widget shows the result of today sales receipt amounts.
Monthly Cumulative Receipts
This widget shows the total amount of receipts for this month.
Most searched keywords
This widget give an overview of what people are searching for related to products. At a glance, see the most popular searched products and the product searched counts.
UnPaid Orders
This widget shows how many unpaid orders arrived in store such as COD ( cash on delivery) orders into website or customer placed orders.
Abandoned Cart Value
This widget shows Abandoned cart value for the last 30 days average.
Latest orders
This widget shows list of latest orders in store.
Tip
Click All Orders in the right corner of the page, it shows the list of all sale orders. Clicking the order number opens the order details.
Recent Buying Customers
This widget shows list of recent buying customer in store.
Most Sold Products
This widget shows the top-selling products and that product sold count in store. This is useful to know for inventory purposes and marketing. Also recommend these products to new customers or share the products on social media platforms.
Most Viewed products
It displays the top most viewed products for eCommerce store. The Most Viewed Products will help store owners track customer view on his store products.
Tip
Click Product Name in the list of most sold and most viewed products, it shows the product edit page.
Pending reviews
It displays the number of pending reviews to be approved for the product.
Pending review replies
It displays the number of pending review replies for the product.