Cash Book Report
The Importance of Cashbook and Financial Management in Business
Cashbook and financial management are crucial components in the success of any business. A well-maintained cashbook provides a clear and concise record of all financial transactions, allowing business owners to track their cash flow and make informed financial decisions. In the O2VEND platform, the cashbook feature provides a user-friendly interface for recording and tracking all cash transactions, from receipts and payments to deposits and withdrawals. By combining the power of cashbook and financial management, O2VEND empowers businesses to take control of their finances and grow their operations with confidence.
A cashbook is a financial record that is used to track all cash transactions of a business, including cash sales, cash purchases, cash receipts, and cash payments. It is a subsidiary book, which means that it is used to supplement the main financial records of a business, such as the general ledger. The cashbook is used to record all cash transactions in a chronological order, with the most recent transactions appearing first. It helps to keep a track of both cash coming in (cash receipts) and cash going out (cash payments) in one place, allowing the company to maintain a clear record of its cash position at any given point in time. It also provides a useful tool for reconciling the cash balance in the company's bank account with the cash balance recorded in the cashbook. This can help to identify and resolve any discrepancies between the two records.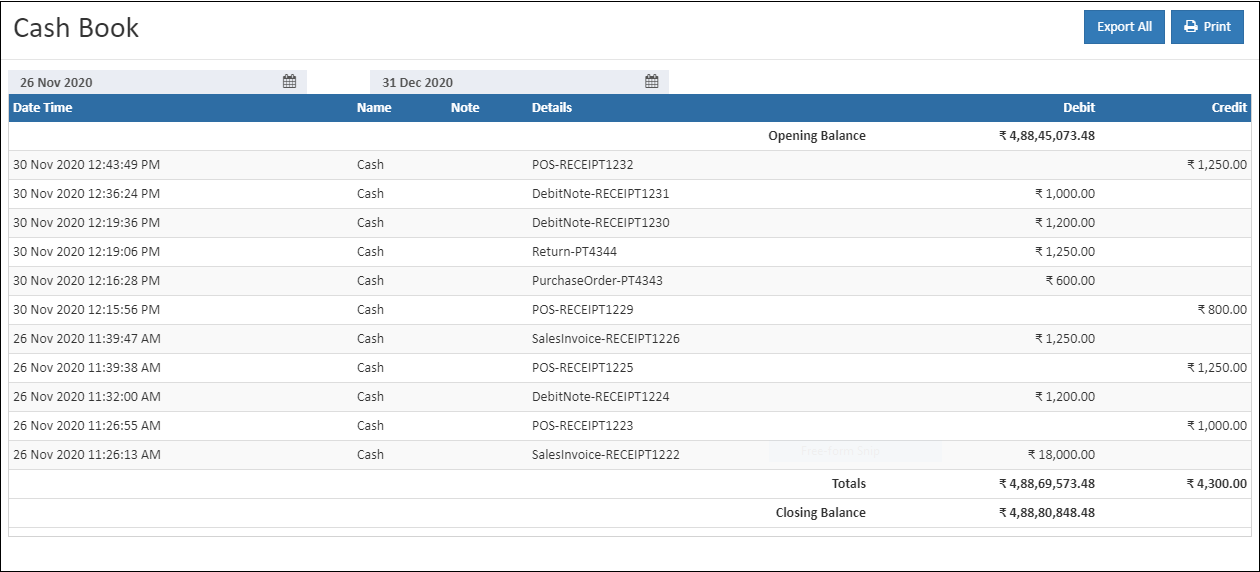 Exploring Your Cashbook in the O2VEND Back Office
How to view the Cash Book Report
Open Back Office
Click Report Section.
Click Cash Book to view the report.
In the Start date and To date fields, specify the date range for the cash book report.
The report will be automatically refreshed with the values for new dates selected.
The cash book has shown the debit and credit payments.
Tip
click on the PRINT button to generate PDF report