ReorderingStock Summary
A reordering summary report is a document that provides an overview of the products that need to be reordered based on their current stock levels. It is generated to assist warehouse managers, inventory managers or other individuals who are responsible for replenishing stock, to keep track of their inventory levels and identify items that need to be reordered.
The report includes information such as product name, identification, current stock level, reorder level, and the number of units required to bring the stock level up to the reorder level. It may also include other information, such as brand details, lead time for reorder.
The reordering summary report is generated based on the stock levels of the products compared to their reorder level. The reorder level is a predefined level that is set for each product, it can be determined by the inventory management system, or manually set by the user based on usage and sales data, it indicates the minimum stock level at which an item should be reordered. Once the stock level of an item drops below its reorder level, the item is flagged as needing to be reordered, and it will appear on the reordering summary report.
The report is useful for warehouse managers, inventory managers and people who are responsible for replenishing stock, as it enables them to keep track of stock levels, identify and reorder items that are running low, and take appropriate action to ensure that inventory is always at the optimal level.
ReorderingStock Summary reports displays which product stock is less than the minimum product quantity. It provides information on the product name and shows the quantity details(Minimum, maximum, reorder), location, and branch.
This report allows a user can create a purchase order for the selected products. Clicking the Create Purchase Order button, the purchase order screen will be open. The reordered quantity is applied for these products.
After saving a purchase order, the ordered quantity and purchase order number will be updated on this report.
How to view the ReorderingStock Summary
Open Back Office
Click Reports Section or use the shortcut key (Alt+R).
Click ReorderingStock Summary to view the report. ( Inventory section)
Reordering Stock Summary will be displayed on the current date.
Use the fillers based on the branches, location and product name.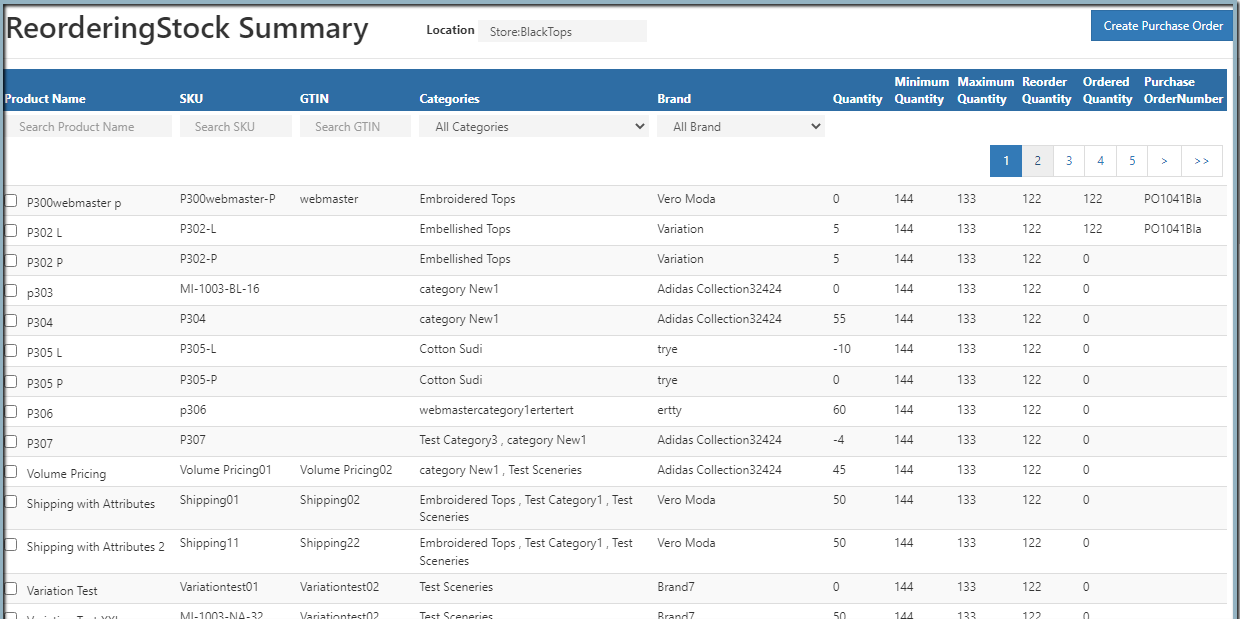 Tip
Use Export All and Export Current Page options to export the report details into comma seperated CSV file.