Manage Stock History
This section guide to manage the stock history across store.
Stock History
Stock history allows users to view records of all the changes made in the inventory, including movements, reference, and adjustment quantity. Go to Back Office, select Inventory in the menu and click and open Stock History. See all changes in the stock of all items.
See the Stock history of all the items that underwent any changes. Filter the history by period and see the admin or employees changes in stock movement, including lot number and serial number updates. Lot numbers and serial numbers are used to track certain types of inventory items.
How to view Stock History
Open Back Office
Go to Inventory Menu.
Click and open Stock History section.
Here check all stocks movements.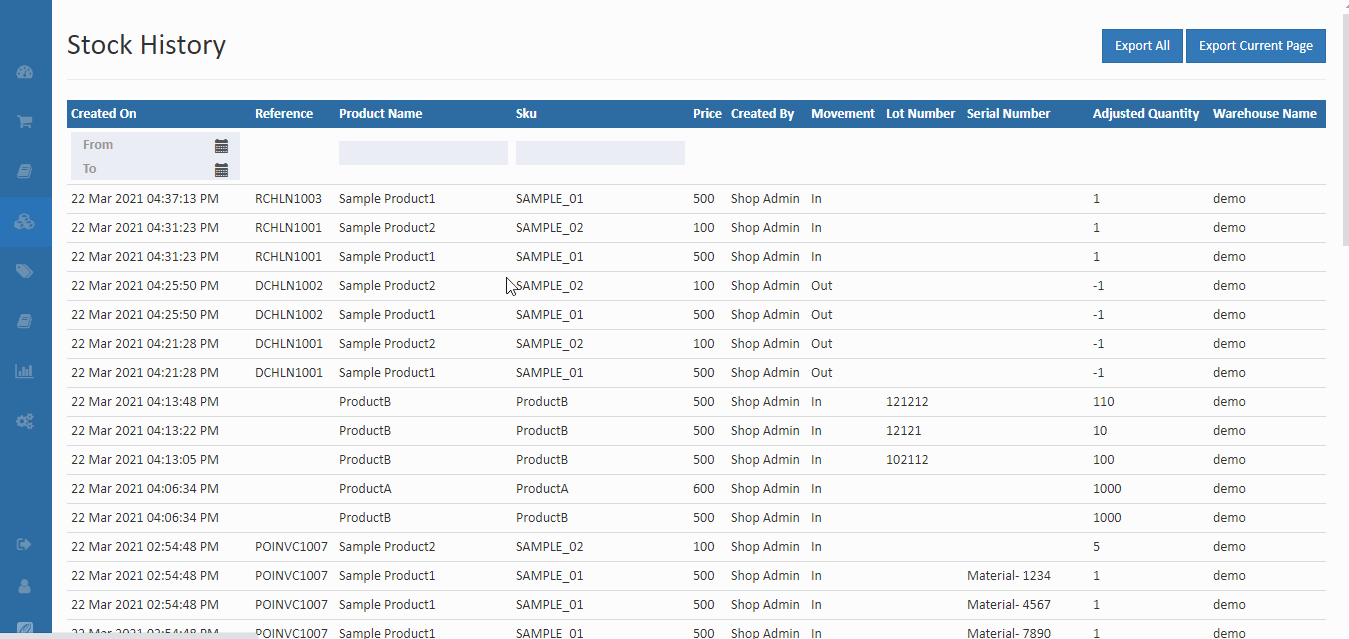 Created On
The stock's movement created date will show in a created on the field.
Reference
Reference is responsible for stock movement.
Product Name
Check the goods movement for the responsible product. Use the product search to see the specific product items.
Sku
Stock keeping unit (SKU) is an identification code that use to classify and organize products. Use search SKU to view the specific items.
Price
Check the price of the products.
Created By
Created by name visible who can place orders. i.e store manager, cashier, deliver.
Movement
Type of movement is In or Out. Quantity of stock moved in or restocked to the location is updated IN and Quantity of stock moved out of the location is updated OUT.
Lot Number
Stock lot number functionality can be used for batch tracking, as technically it provides the traceability. Check the updated lot number in stock history.
Serial Number
A serial number is a unique number assigned to identify a specific item. Check the updated serial number in stock history.
Adjusted Quantity
Adjust the stock quantity in the product list page or stock inventory section. This adjustment updated in stock history.
Location Name
Location of the product where stock is kept or out.