Manage Blog
An ecommerce store and a blog can work together to create a strong online presence and drive more sales for a business. A blog can be used to provide valuable information to customers, showcase products and services, and engage with customers through comments and other forms of interaction.
The O2VEND platform can help create blogs by providing an easy way to add a blog section to your ecommerce store. The platform allows you to create and manage blog posts, and also provide options to customize the layout, theme, and appearance of the blog section.
You can use the blog to provide additional information about your products and services, share industry news and trends, and offer tips and advice to customers. This can help to increase brand awareness and establish trust with your customers. It also provide the options to add the categories, tags, and comments to the blog which makes it easy to manage the blogs effectively.
You can also use the blog to drive more traffic to your store by including links to products and services. This can help to increase conversions and sales. In addition, the platform also allows you to promote your blog posts on social media, which can help to drive more traffic and engagement to your store.
In summary, O2VEND platform helps to create a blog section on your ecommerce store, it allows you to easily create and manage blog posts, customize the appearance of the blog, and increase brand awareness and drive more traffic and sales through your blog.
Add Blog, in the Settings -> Webstore content -> Blog. Use Blog widget to list them in home page. Also can link them in footer menus (See Settings -> Webstore contents -> Footer menus)
Blog Items
The Blog Items is a list of the latest Blog stories or updated Blog of new products notification will send to users.
How to create Blog items
Open the Back Office.
Go to Settings menu.
Click and open Manage Blog Catagories.
Click Create Blog items in the top right corner.
Enter Blog catagory name and slug name.
Enter all of the needed details.
Press Save button.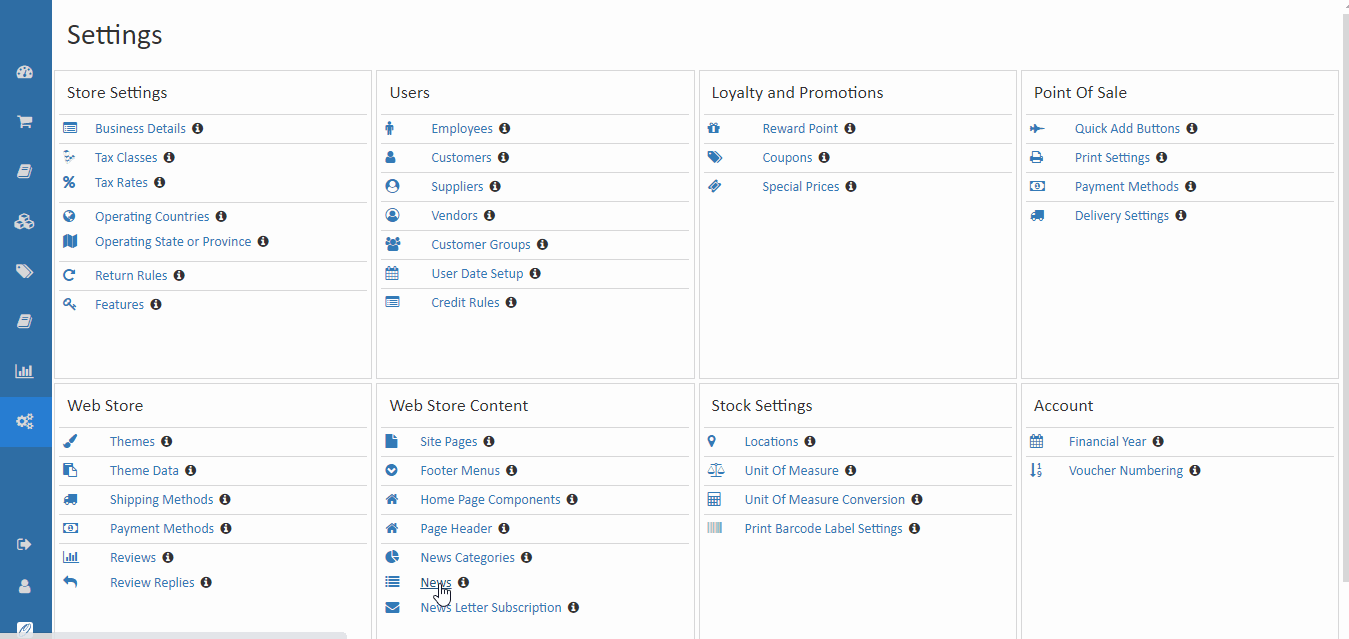 Blog item name
Enter name of the Blog item and enter the URL.
Meta Title
Meta Title is used to tell user what exactly website is about, so that the user understands when he enters in website.
Meta Keyword
Meta keywords are a unique keyword that customers can use to find products in the category.
Meta Describtion
Meta description is a brief description of what page or post is about.
Thumbnail Image
Thumbnail is used as a face of the product. Click "Choose Files" button and select images files to upload.
Short Description
Write the short description of the Blog items.
Body
Write the body of the Blog items. Add Blog,articles, stories, videos and blog - Blog widget display in home page.
Is Published
When is published is enabled the specific Blog items are published.
Belongs to categories
when a Blog item belongs to selected catagory.